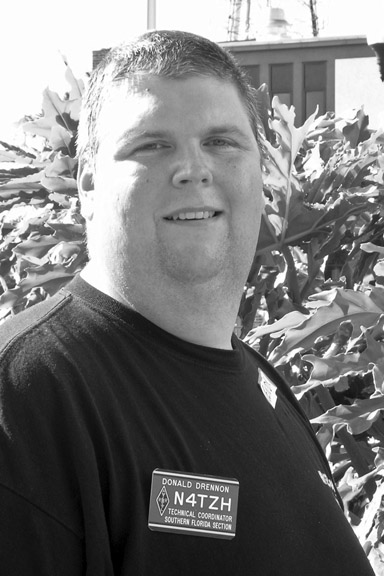 Technical Coordinator Don Drennon, N4TZH
11500 NW 35 Place
Sunrise, FL 33323-1328
(954) 747-7777 (H)
n4tzh@arrl.net 


I was first licensed June 21, 1988 as KC4FXI. My Elmer Tom Middleton ,SK worked with me on his lunch break before I went to work on second shift.

I upgraded to Technician September 27 of 1988 call sign N4TZH and then to General class on May 13, 1998.

When I was approached by Jeff, WA4AW to be a TS, I said "I am not that Technical". Jeff told me that I had all the skills necessary to be a great TS.

Then when Sherri, W4STB asked if I could step up as TC, I said "Let me at 'em !"

In my tenure as Technical Coordinator, I led the BPL investigation team in Southwest Miami-Dade County, worked on the Super Bowl Forty-One Frequency Coordination team, and assisted many hams with antenna and RFI issues. My interests include Antenna Home-brewing, UHF/VHF (Especially Six meters), HF, and Digital modes.


73,
Don N4TZH